Right right with proper motorcycle safety gear!
Whether you're an experienced rider or just getting started, the right protective gear will help you have enjoyable and, most importantly, safe journeys. Even if you're riding just a short distance, the fact that motorcycles don't offer the same protections as other vehicles means that you need to take great care when you hit the road.
With the weather warming up motorcycle season is among us. Before you hit our beautiful Idaho and Washington highways, get your bike ready but don't forget your gear!
Since May is Motorcycle Safety Awareness Month, here are some safety gear tips gleaned from motorcycle safety organizations, including the Motorcycle Safety Foundation and the American Motorcyclist Association.
Protect your head
Perhaps the most important piece of safety equipment — other than a well-maintained bike — is your helmet. Not only does a helmet protect your head, the visors and face shields provide additional safety benefits along with a more enjoyable ride. Avoid getting hit in the face by those pesky Idaho and Washington bugs or loose road pebbles? Full-face helmets also cut down on wind noise and can help reduce rider fatigue.
Always make sure your helmet has a secure fit and that any face-protection options you select allow you to easily see what's around you.
Wearing a helmet should be a no-brainer when you consider the safety benefits.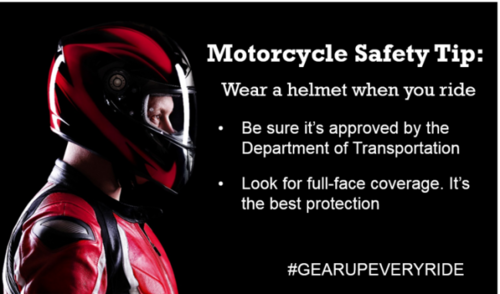 Your feet and hands
Boots protect your feet and ankles from injury not only in a crash but also during the ride by providing a barrier against road debris and hot exhaust pipes. The right boot soles (oil-resistant, rubber-based composite) will help you keep your feet where they need to be — on the pegs.
And don't forget your fingers! Gloves improve your grip and prevent abrasions and blisters. Just be sure that they fit properly so you can still work the controls of your bike.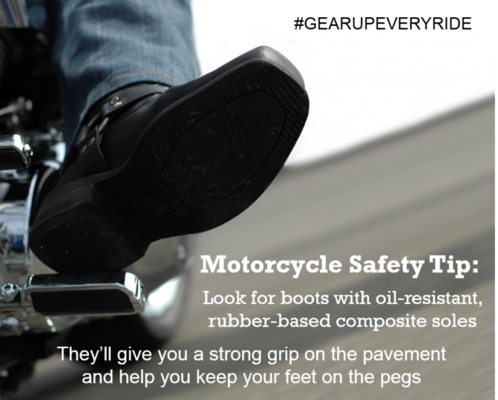 The rest of your body
When it comes to clothing to wear while riding your bike, there are options for every style choice. Look for protective gear designed specifically for motorcyclists – it will offer you the best protection while still allowing you to comfortably operate your bike.
There's a reason many riders wear leather. It is extremely durable and protects against abrasions. Newer fabrics, however, also provide these benefits. Look for reflective strips or other features designed to help make you more visible to other drivers, or add your own reflective strips if needed.
If it's windy, you'll want to wear layers to help keep the wind from your body. If you ride in inclement weather, don a rain suit or other gear designed specifically for those times when the road ahead isn't quite sunny. You can even look for clothing that features electric heat, which can make your journey a lot more comfortable.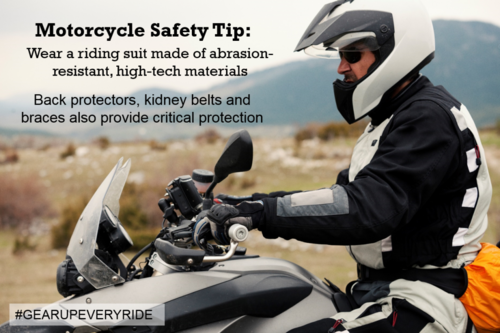 Non-clothing items
Safety gear isn't all about clothing. Some items to keep handy: a flat-tire repair kit, tire-pressure gauge, spare fuses and anything that might be of use for your particular bike. Remember to pack a flashlight, in case you end up on the side of the road in the dark.
We know that this list of safety gear sounds like a lot, but safe riding means being responsible. If you are looking to buy cool new gear to go with your bike, you might as well get the kind that will make you look good and help save you from injury.
Gear Up Information
"GEAR UP" Campaign and Information: Safety tips and information about finding the right gear for your ride from the Motorcycle Industry Council: http://www.gearupeveryride.org/Home/About
The Right Motorcycle Coverage
Another important part of protecting your ride, bike and equipment, is to make sure you have the right insurance coverage. Whether you currently have a motorcycle insurance policy with our office or not, our agents will take the time you need to meet with you and find the coverage that fits your budget, travel plans and needs best. Request a free quote online or contact our office near you to review your coverage or get your questions answered.