The best online resources for all things fishing in Washington State
Whether you're planning an ocean fishing trip on the west side of the state, or have summer plans for lots of local fishing memories in our beautiful eastern Washington lakes; you can never be too prepared when heading out for the big catch. That's why we've developed this handy list of online resources to help you find the useful information you need to fish Washington!
Local Fishing Resources – Spokane County:
State-wide Fishing Resources – Washington Department of Fish & Wildlife
Washington Boater Safety Education Course: https://www.boat-ed.com/washington/
Our favorite fishing in Washington State:
Halibut - April and May north of Puget Sound
Shrimping - North of Puget Sound in May
Coho & Chinook Salmon - Off the Washington Coast of Grey's Harbor during July, August and September
Pink Salmon Run – Puget Sound
Dungeness Crab – Puget Sound, Grey's Harbor and Boston Harbor
Bass – Potholes Reservoir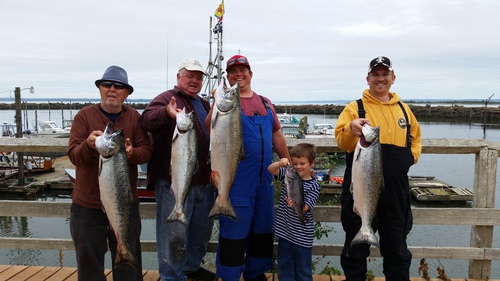 Wesley Burt, Paul Kuespert, Stewart Kuespert, Andrew (Stewart's Son) and Matt Ricks show off their catch after a day of salmon fishing off the shores of Western Washington in July 2014.
From all of us at Argonne Insurance in Spokane Valley, we hope all of your Washington fishing adventures are filled with memories, fun, safety and you get the big catch!