The best online resources for all things fishing in our great state of Idaho
If you love fishing – Idaho is the place to be! We are surrounded by opportunities for so many different types and seasons of fishing. Take your boat out or pack up your cooler and waiters and head out to your favorite spot – or find a new hole. In Northern Idaho you are bound to find a great place to make memories with your family.
To fish in Idaho you need a fishing license, knowledge of the rules, the proper gear and a place to go. Here's a handy list of online resources to help you find what you need to navigate the Idaho fishing regulations.
Statewide resources from Idaho Fish and Game:
2013-2015 Fishing Seasons and Regulations: http://fishandgame.idaho.gov/public/fish/rules/
New to the state or looking for a new place to try? Enter your lake on this page and find maps, rules, facilities and fish stocking information: http://fishandgame.idaho.gov/ifwis/fishingPlanner/
Looking for a family friendly fishing hole? Idaho Fish and Game has made up this list of "family fishing waters":
List of Idaho State Parks: http://parksandrecreation.idaho.gov/activities/fishing
Information and resources for Boating in Idaho including safety courses, laws and boating education certification: http://parksandrecreation.idaho.gov/activities/boating
Does fishing bring out the competitor in you?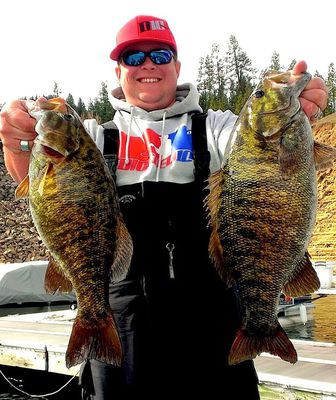 Our favorite Idaho fishing spots
Coeur d'alene Lake, Spirit Lake, Twin Lakes, Hayden Lake – We live in an amazing place with beautfiful fish-packed lakes surrounding us! The lakes around Coeur d'Alene and St. Maries are great for large and small mouth bass, crappie, pike and even salmon.
Trout - Spring Valley Reservoir – In the Moscow area, there's always a great family friendly adventure waiting at Spring Valley in Troy.
Steelhead - Paul and Stewart Kuespert can be found on the Clearwater during the winter Steelhead months.
These are just a few of our favorite north Idaho fishing holes around Coeur d'Alene, Moscow and Lewiston. Our family at Kuespert Insurance and Panhandle Insurance wish you and your family all the luck and safety on your great Idaho fishing adventures this year.